The Insider's Guide To Job Search - .EPUB edition
This is the full, published version of The Insider's Guide
found in hardcover and paperback. This edition is compatible with
Kobo/iPhone/iPad/Nook/Sony and other e-readers.

If you find this useful, please follow me on Linked for fresh content: http://ca.linkedin.com/in/kevintbuckleycpc
You can download the .epub file simply by clicking on the book cover, or the link below the Table of Contents.
In both instances, you will then need to click the image again to download the epub file to your dektop.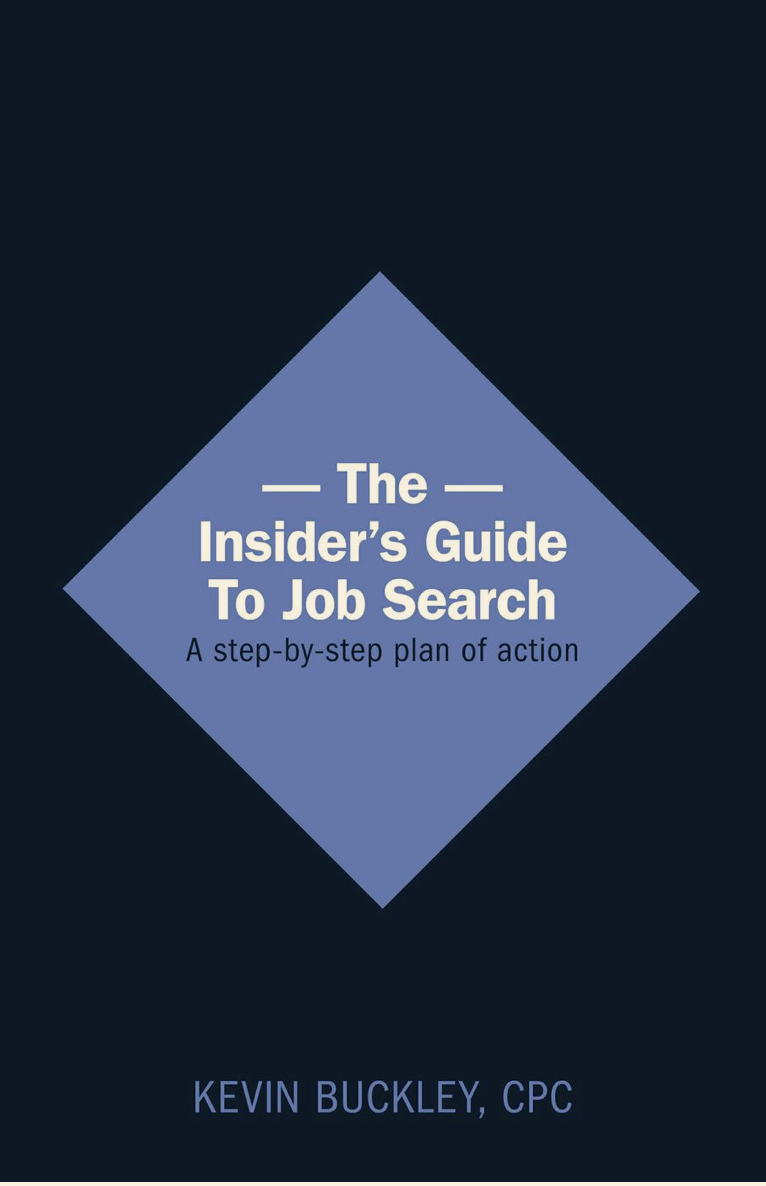 Table of Contents
When Change Happens
Wrongful Dismissal - Getting Help
Obtain Your References
Signs That Your Job Is At Risk
Defining Your Needs
Organizing Your Job Search
Self-Marketing In A Changed Marketplace
Why Should They Hire You?
What To Look For In A Recruiter
What's On Your Profile?
Criminal Background Checks
How Do I Stand Out From The Competition?
Resumes & Cover Letters
Resumes & The First Page Contents
Plain Text Resumes
Cover Letters: Brief & Focused
Creating Buyer Interest
Job Boards: Internet Postings
Creating Job Alerts
Search Engine Tips
LinkedIn Groups & Profiles
Job Search For Mature Candidates
Choosing The Employers You Want To Target
Your Voicemail
Dealing With Discouragement
Body Language In An Interview
Staying Focused In An Interview
Setting The Tone
First Impressions Count
Assessing Potential Employers
Questions To Ask The Employer
Interview Handouts: Influencing The Decision
Are You A Potential Leader?
Attitudes, Values & Feelings

Why Should We Hire You?
Points For Successful Interviewing
Employer Interviewing Styles
Common Interviewing Mistakes
Don't Oversell Yourself
Paving The Way With Reference Contacts
Perseverance & Patience In The Hiring Process
Some Aspects That Are Beyond Your Control
Do I Stay Or Do I Go?
Ambition: The Desire For Progress
Questions To Consider
Overcoming Inertia: Moving Forward
Negotiating Compensation
Obtaining Salary Information
Handling Salary Questions In An Interview
Negotiating Compensation Between Jobs
Patience In Negotiating: Reviewing Your Agreement
A Low Salary Offer: Improving Your Position
Resigning Without Burning Your Bridges
Withstanding The Pressure Of Counter-Offers
Fitting In With The New Team
Positioning Yourself For Promotion
Corporate Values & Cultural Expectations
Changing The Student's Perspective
What Recruiters Are Looking For
Your Telephone & Virtual Interviews
When You Are Being Called By An Employer
Passive & Active Listening
How Do I Get Hired With Minimal Experience?
The Virtual Interview: Looking Good
Tips For Attending Career & Job Fairs
Questions To Ask Career Fair Representatives
Academic Resumes: Enhancing The Appeal
Mistakes People Make That Affect Their Progress
Click to download .epub file: The Insider's Guide To Job Search
The Insider's Guide To Job Search - Copyright © 2003-2015 Kevin Buckley, CPC All rights reserved.
Buckley Search Inc. Suite 200 - 5925 Airport Road, Mississauga, ON L4V 1W1 1 (866) 996-9984